My Blog
Posts for: March, 2015
By Spring Valley Dental Associates
March 26, 2015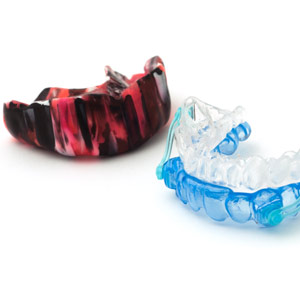 When he isn't among the ten players vying for position on the basketball court, Cole Aldrich of the New York Knicks sometimes lets his dangle behind one ear. Mason Plumlee, who plays for the Brooklyn Nets, slips his snugly inside one of his socks during off times. Other players can be seen at timeouts gnawing on them nervously, or tucking them into spandex waistbands. But when the whistle blows, they go into the mouth before the players get on the court.
We're talking about protective mouthguards, of course. According to a recent story in the New York Times, only a handful of basketball players wore them regularly a few years ago. Today, more and more are wearing them, both in practice and during games. What's the reason for the change?
Partly, it's the result of better design and improved construction; today's mouthguards are more comfortable and better-fitting than ever. Part of it comes from mounting evidence that they work: Research studies have consistently demonstrated the benefits of wearing a mouthguard — not only to protect the teeth, but also to reduce the risk of concussion. And partly, it stems from the growing acceptance that safety is an important aspect of all athletic activity.
If the pros are doing it — shouldn't you be too? While you may think that only contact sports (such as football) are risky, the fact is that "non-contact" sports like baseball and basketball account for the majority of dental injuries. In fact, the American Dental Association recommends you wear a mouthguard when you participate in activities like handball, soccer, surfing and weight lifting — as well as boxing, skydiving, martial arts and "extreme sports" — whatever that may mean to you.
What's the best kind of mouthguard? It's the one that you actually wear, of course! And the most comfortable and best-fitting mouthguard is the one that's custom-made for you by your dentist. Sure, you can pick up an off-the-shelf mouthguard at a big box store; but it can't offer you the same level of protection and comfort you'll get from a mouthguard that is made from a model of your own teeth. Custom-made mouthguards from your dentist are reasonably priced — and by preventing dental trauma, they can save an untold amount of hurt… both to your body and to your pocketbook.
So take a tip from the pros: Get a custom-made mouthguard, and wear it every time you play. But when you're done playing… how about putting it away in a case?
If you would like more information about custom-made athletic mouthguards, please contact us or schedule an appointment for a consultation. You can learn more by reading the Dear Doctor magazine articles "An Introduction to Sports Injuries & Dentistry" and "Athletic Mouthguards."
By Spring Valley Dental Associates
March 11, 2015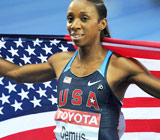 Lashinda Demus holds the U.S record in the 400 meter hurdles, with a time of 52.47 seconds, the third fastest ever recorded. While her twin 5-year-old boys cheered her on, she brought home a silver medal from the 2012 London Olympics. But when it comes to her full set of upper and lower braces, there's no silver to be seen!
Demus is a top-ranked competitor, a wife and a mom — and an adult who is currently in orthodontic treatment. With her orthodontist's approval, she chose clear ceramic braces. These are just one of the treatment options available to adult patients, many of whom prefer a less noticeable style of orthodontic appliance.
As many as three-quarters of adults are thought to have some form of orthodontic problem. Common issues include teeth that are crowded too closely together, or ones that have drifted too far apart after an extraction or other tooth loss. It is believed that straightened teeth are easier to clean and better for chewing — they can also improve an adult's social life, and even his or her career prospects!
Some grown-ups may hesitate to consider orthodontic treatment because they remember the "railroad tracks" they saw in junior high school. In fact, there have been many changes in orthodontic appliances in the past few years. Two popular choices for adults are colorless braces (the kind Demus wears) and clear orthodontic aligners.
Colorless ceramic braces are made of high-tech composite materials. They resist staining, and are less noticeable because their translucent appearance blends with the teeth. Often, a single wire is the only part that's plainly visible. Sometimes it's even possible to place them on the lingual (tongue) side of the teeth.
Clear aligners are an alternative to braces that are available to adults and teens. Instead of wires and attachments, these consist of a series of transparent, removable trays that are placed over the teeth and worn 20 hours per day. Over a period of six months to two years, the teeth are gradually straightened as you progress from one computer-designed tray to the next. Best of all, you can remove the trays completely to clean your teeth, and for important occasions.
Which one is right for you? It depends. While aligners have been successful in treating mild to moderate spacing issues, more difficult problems with the bite may require a more traditional form of braces. Also, there are a few health problems which might need to be attended to before orthodontic treatment is begun. The best way to learn about your options is to come in for a consultation. But remember: if you want a better smile, it's never too late.
If you would like more information about orthodontic choices, please contact us or schedule an appointment for a consultation. You can also learn more by reading the Dear Doctor magazine articles "Orthodontics For The Older Adult" and "Clear Orthodontic Aligners."