My Blog
Posts for: June, 2014
By Spring Valley Dental Associates
June 19, 2014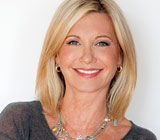 Singer Olivia Newton-John's daughter Chloe is now a lovely, grown woman, but Olivia recently recounted to Dear Doctor magazine a rather creative method she found to sooth Chloe's teething troubles many years ago.
"When Chloe was a baby and teething I remember using a frozen bagel for her sore gums," Olivia said. "She loved it!"
Cold is often very soothing to a teething child's gums. In fact, the American Academy of Pediatric Dentistry (AAPD) recommends using a clean, chilled, rubber teething ring, or cold wet washcloth. Chilled pacifiers can also be helpful. Be sure not to freeze teething rings or pacifiers as ice can actually burn sensitive mouth tissues.
Older teethers can sometimes find relieve from cold foods such as popsicles (or bagels!) but make sure your child eats these sugar-containing foods only at mealtimes so as not to promote tooth decay.
If your baby has not yet begun the teething (or tooth-eruption) process, you can expect it to begin usually between six and nine months. It may, however, start as early as three months or as late as twelve months.
Teething symptoms vary among children, as does the length of time it takes for a tooth to make its appearance. But many parents notice the following signs:
Irritability
Biting and gnawing
Gum swelling
Chin (facial) rash
Disrupted sleeping patterns
Ear rubbing
Drooling
Decreased appetite
These symptoms are usually most bothersome during the week that the tooth is breaking (erupting) through the gums, starting about four days before and lasting about three days after the tooth appears.
Occasionally, teething discomfort can be considerable. If that is the case with your baby, you can give her or him acetaminophen or ibuprofen in the appropriate dose (check with your pharmacist if you're not sure what that is). The medicine should be swallowed — not massaged into the gums, as this can also burn. Numbing agents should not be used for children under 2, except under the advice and supervision of a healthcare professional.
If you would like to learn more about teething or any other child-related oral health issue, please contact us or schedule an appointment for a consultation. If you would like to read Dear Doctor's entire interview with Olivia Newton-John, please see "Olivia Newton-John." Dear Doctor also has more on "Teething Troubles."
By Spring Valley Dental Associates
June 04, 2014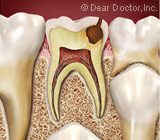 Dentists go to great lengths to save an adult permanent tooth. Even though restoration technology is incredibly advanced, none can completely replace the biological function of natural teeth. Treating a diseased tooth to preserve it is a high priority in dentistry.
It would seem, though, that a child's primary (baby) tooth might not warrant the same treatment. Since the tooth eventually detaches from the jaw to make way for a permanent tooth, why save it?
It is worth the effort, because primary teeth provide more than a chewing function: they also serve as guides for their permanent successors. When they're lost prematurely, the permanent teeth may not come in correctly, leading to a malocclusion (poor bite). Other areas of development, like speech and dental bone growth, may suffer as well from the longer time gap between the premature loss and the permanent tooth eruption.
Saving an infected primary tooth should be considered, especially if significant time remains in its lifespan. Due to differences between primary and permanent teeth, though, the treatment approach isn't the same. For example, the body gradually absorbs the roots of a primary tooth (a process called resorption) as the permanent tooth beneath erupts applying pressure to the primary roots (this is what enables its eventual detachment). Dentists must factor this process into their diagnosis and treatment plan for a primary tooth.
The level of treatment may vary depending on how deep the infection has advanced. If the decay is limited to the tooth's outer layers and only partially affects the pulp, the innermost layer of the tooth, a dentist may remove as much soft decay as possible, apply an antibacterial agent for any remaining hardened infection, and then restore the tooth with filling materials.
For deeper infection, the dentist may remove some or all of the pulp, disinfect and clean the area, and then fill and seal the empty space with a filling. A filling material like zinc oxide/eugenol paste should be used that's capable of resorption by the body to coincide with the natural root resorption. After treatment, the tooth should continue to be monitored for changes in appearance or gum swelling, just in case the infection returns or advances.
Although it may seem counterintuitive, treating a primary tooth as you would its successor is worth the effort. Your child will reap the health benefits, both now and long after the primary tooth is gone.
If you would like more information on endodontic treatment for children, please contact us or schedule an appointment for a consultation. You can also learn more about this topic by reading the Dear Doctor magazine article "Root Canal Treatment for Children's Teeth."